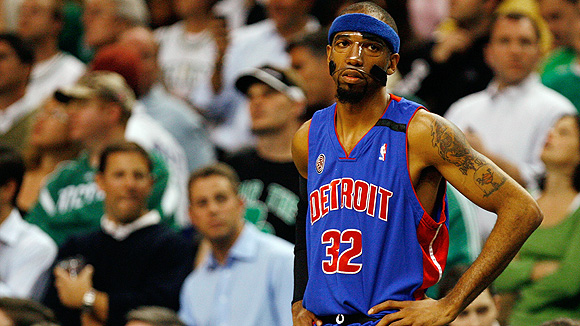 I am a Detroit Pistons fan. Though I can't say that I've always been one, I am now a Detroit Pistons fan.
It pains me to see our once glorious team struggling to stay above .500. And with all the other opinions out there of what's wrong with the Pistons, I've decided to give my two cents
:

Issue #1: Post-Presence

One of Detroit's biggest problems has been a problem even through most of their Golden Ages: lack of a dominant post presence. The Pistons don't have anyone that can consistently create havoc for opposing defenses within seven feet of the basket.

Rasheed is talented, I agree; he can rebound, block, shoot, etc etc etc...but he doesn't like to bang in the post anymore (I won't even go into all his emotional issues). He'll occasionally grab an offensive board and put it back in. Other than that, Sheed resorts to fade-away hooks and long-range threes. Antonio McDyess is another aging veteran that doesn't do damage in the post. Dice get's pick and pop offense, which only sets him up for those 12-17ft jump-shots. Jason Maxiell wants to bang with the big boys, but is realistically too small to ever be a dominant presence on the block. I know everyone was also getting excited for Amir Johnson, with how much Dumars hyped him over the last few years, but it's abudantly clear now that Amir is primarily a defender (one that can't stay on the floor for more than 10 minuntes because of foul trouble).

Issue #2: Allen Iverson
I feel bad for Allen Iverson; for I guy that's put in so much heart into the game, he's getting the majority of the blame for the Pistons' struggles. However, the AI-bashing isn't completely unwarranted. AI has always needed the ball in his hands to be effective. Along the same lines, he's not meant to be a point guard. For the majority of his career, he ran around the floor with four other scrubs, and did whatever he wanted to on the offensive end. For this reason, AI should be coming off the bench for Detroit and running with the 2nd team, where he can be the focus. It's no surprise that Detroit has won two straight against Orlando and Boston without AI in the lineup.

Dumars brought in Allen for his expiring contract. He was a one-year experiment with huge potential-upside, and few long-term consequences. It's safe to say that the experiment is a dud; Iverson doesn't have the "updside" that Detroit needed.

Issue #3: Athletic Wing
Neither Tayshaun nor Rip are the type to beat their man off the dribble and get to the bucket. Most sucessful teams have a guy that can draw contact and get free throws. AI, can get to the bucket, but screws up offensive chemistry. Stuckey can also get to the bucket, but cannot finish consistently enough. There's really not much more to say about this.



No Need to Panic


Detroit is in a slump, but is in no way in a bad position. With AI and Sheed's large contracts coming off the books at the end of this year, Dumars is in a prime position to snipe some quality players through 2009 and 2010 free agency.

For Pistons fans,
take pride in their recent two-game win-streak, but don't over-read it. Hamilton is playing his mind out right now, bringing back memories of Rip circa 2004. But he's not a guy that can bring the Pistons to elite status all by himself. Stuckey is an up-and-coming point guard, but he's not ready to lead a championship-caliber team yet
. The Pistons will make the playoffs, and lose in the 1st or 2nd round to a much more deserving and better team. There's no shame in losing in the playoffs when your team is reloading. The Pistons' resurrection won't come this year, but is primed to arrive soon.